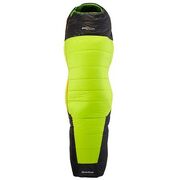 Thermal insulationComfort temperature 5°C / Temperature limit 0°C. Collar, anti-cold zip.  
FlexibilityAttached, detachable mattress and sleeping bag. 3-in-1 bedding
Sleep qualityImproves sleeping quality thanks to its innovative system.
Low weight / lightweightFilled with lightweight down feathers.  

Compact designDown filling can be compacted down.
Easy pitching / taking downFolds and unfolds quickly.

 Easy careEasy to machine wash. Follow the care instructions.